Description
The Canon EOS R6 Mirrorless Camera Body is made to conquer the darkness. This full-frame mirrorless camera based on the revolutionary RF mount comes with powerful In-Body Image Stabilization up to 8 stops, ISO range up to 102 400 and low luminance AF sensitivity of up to EV -6.5 – all designed to give you optimum performance for low-light photography.
Approx. 20.1MP full-frame CMOS sensor + 4K video
Up to 8-stop In-Body Image Stabilizer X Optical Image Stabilizer
Low-light performance up to EV -6.5 + ISO 102 400
Up to 20 fps + Animal Detection AF
The Canon EOS R6 Mirrorless Camera Body is equipped with an approximately 20.1-megapixel full-frame CMOS sensor, an improved version of the same sensor found in the flagship professional DSLR EOS-1D X Mark III. The latest DIGIC X image processor gives the EOS R6 the high-speed processing capability to perform high-speed shooting, fast and precise AF performance, excellent noise reduction and other outstanding achievements possible.
Capture desired and unexpected moments with ultra-fast canon eos r6 mirrorless camera body, near-silent burst shooting capabilities of up to 20 fps, even when photographing weddings, sporting events and wildlife, where silence is golden. AF/AE tracking ensure that your shots are sharp and in focus.
Achieve realistic images with HDR PQ images, which offer more dynamic range and 4 times more gradation than conventional JPEG, without the need for post-processing. HEIF files can be converted easily to HDR-PQ-like JPEG format, either in the camera or on another device, using Digital Photo Professional.
Newly upgraded, the Dual Pixel CMOS AF II enables the EOS R6 to perform fast and highly precise autofocusing and subject-tracking across approximately 100% × 100%* of the image area. With up to 6 072 manually selectable AF positions, and up to 1 053 AF frame segments in the AF auto-area selection modes, you can take aim on small, unpredictable subjects and enjoy greater freedom in image composition.
Similar to the flagship DSLR EOS-1D X Mark III, the EOS R6's advanced algorithms based on deep learning technology allow you to effectively detect and track a human's eye, face or head, even when the subject is not facing the camera directly. Capturing unpredictable wildlife or pets on camera is now even easier with the EOS R6's Animal Detection AF, which can identify and track the eyes, faces and bodies of cats, dogs, and even birds.
A hallmark of EOS R system cameras is their outstanding low-light capabilities, and the EOS R6 excels exactly in this, with a native ISO range of 100 to 102 400 and low luminance AF sensitivity of up to EV -6.5. This means you can achieve focus with ease in low light, even in close to pitch-dark situations where the subject is hard to see even with the naked eye.
Record movies in breathtaking 4K UHD resolution at 60p (NTSC)/50p (PAL) without crop, using the entire width of the sensor. With 4 times the resolution of Full HD videos, and borrowing image processing technology from Canon's acclaimed Cinema EOS System, you will enjoy richer and more realistic 4K UHD footage.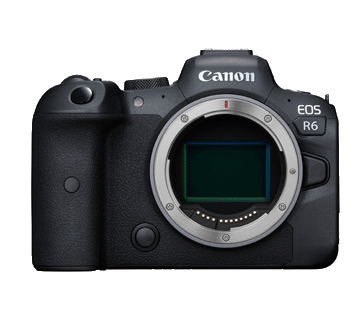 Fancy a particular moment in your video? Grab a high resolution still image of approximately 8.3MP from a 4K movie. You can also record 4K time-lapse videos easily, even in challenging lighting conditions. The EOS R6 supports up to 4K UHD video output via HDMI for viewing on an external recorder or HDR TV.
Catering to the professional needs of post-production, Canon Logo, originally a key staple of the Cinema EOS System, gives you up to 12 stops of dynamic range in your movie footage. You also get greater control over shadows, highlights and color saturation in post-processing for rich, detailed footage even in high-contrast scenes.
Record highly realistic HDR video footage akin to viewing with the actual human eye. No color grading is needed, which streamlines the post-production workflow. HDR PQ footages can also be viewed on compatible displays.
The Zebra Display overlays a striped pattern on overexposed areas when viewed through the electronic viewfinder (EVF) or Vari-angle LCD screen, giving you greater control over exposure and highlights during movie shooting.
A new 5-axis In-Body Image Stabilizer in the EOS R6 corrects image blur caused by camera shake, allowing for sharper handheld capture, even with a slower shutter speed. This also works in tandem with the Optical Image Stabilizer in the lens, offering stability equivalent to shooting with a shutter speed up to 8 stops* faster, effectively opening up more possibilities for low-light handheld shooting, super-telephoto and long exposure photography.
On top of In-Body IS and in-lens Optical IS, Movie digital IS further enhances stability to reduce blurring and unsteady footage, even when shooting handheld or while walking.
To checkout more DSLR & Mirrorless Cameras visit our website store.retinapix.com